Polyurethane is the name given to materials produced by the reaction of isocyanates with polyols. I say "materials", in the plural, because polyurethanes are extremely versatile and allow as the manufacturing of hard products as elastomeric/rubbery products and foams/sponges. In addition, polyurethanes can be thermoplastic or thermosetting (or thermoset).
The properties of polyurethanes can be changed by varying the type or quantity of three basic substances of their production: diisocyanate, short-chain diol and long-chain diol. The classification is determined by the type of polyol used, for example, polyester polyurethane (PUR) or polyether polyurethane.
O PU de poliéter é mais resistente à hidrólise e geralmente tem temperatura de transição vítrea mais baixa, enquanto o de poliéster têm resistência melhor à óleos e combustíveis.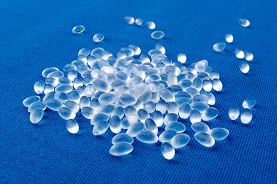 Thermoplastic Polyurethane (TPU)
TPU's contain linear flexible coiled and rigid packaged segments, able to merge without degradation of urethane links. They have essentially linear chains, with molecular weight between 15000 and 40000 with a glass transition temperature below 32°F (0°C). TPU's are usually produced with polyols of molecular weight between 600 and 4000, chain extenders with a molecular weight between 61 and 400 and diisocyanates. Because of the diversity of combinations of flexible and rigid segments, TPU's can be formulated as different materials, from soft and flexible elastomers (elastic materials that bridge the gap between plastics and rubbers), to rigid plastics with high modulus.
A TPU can be processed using common techniques, such as injection molding, extrusion, blow molding etc. Drying is recommended prior to use until it get below 0.05% moisture content, which may take from 3 to 6 hours between 194°F (90°C) and 230°F (110°C) depending on the hardness of the material.
Processing of TPU requires attention to the speed of the injection molding machine (or extruder) screw and the barrel temperature because of its high viscosity, since a too low temperature and/or high screw speed may cause shear degradation, in addition, any cold point (mainly in injection nozzle) can be a major problem resulting in clogging. The table below is a guide for injection molding:
Hardness
Feed zone
Transition zone
Metering zone
Nozzle
°F
°C
°F
°C
°F
°C
°F
°C
70A
338 - 356
170 - 180
365 - 374
185 - 190
374 - 383
190 - 195
374 - 392
190 - 200
80A
365 - 374
185 - 190
383 - 392
195 - 200
392 - 401
200 - 205
392 - 401
200 - 205
85A
383 - 392
195 - 200
392 - 401
200 - 205
401 - 410
205 - 210
401 - 410
205 - 210
90A
392 - 401
200 - 205
401 - 410
205 - 210
410 - 419
210 - 215
410 - 419
210 - 215
95A
392 - 401
200 - 205
410 - 419
210 - 215
419 - 428
215 - 220
419 - 428
215 - 220
98A
392 - 401
200 - 205
410 - 419
210 - 215
419 - 428
215 - 220
419 - 428
215 - 220
64D
401 - 410
205 - 210
410 - 419
210 - 215
419 - 428
215 - 220
428 - 437
220 - 225
72D
401 - 410
205 - 210
419 - 428
215 - 220
428 - 437
220 - 225
428 - 437
220 - 225
Another recommendation is to post-cure the part with the goal of improving product performance, this treatment is to keep the part in an oven dryer for a period as shown below:
| | |
| --- | --- |
| Hardness | Curing conditions |
| Shore A 70-85 | 176°F x 16h (80°C x 16h) |
| Shore A 90-98 | 194°F x 16h (90°C x 16h) |
| Shore D 64-72 | 212°F x 16h (100°C x 16h) |


Features (Polyurethanes in general):

- Increased hardness by adding fillers such as glass fiber, talc etc
- Good resistance to oils, solvents, oxidation and ozone
- Resistant to the action of microorganisms
- Good resistance to hydrolysis
- Loss of properties at low temperatures and high temperatures
- It can be flexible or rigid, thermoset or thermoplastic



Applications:
| | | |
| --- | --- | --- |
| | | |
| Smartphone case (TPU) | Hydraulic seals (TPU) | Footwear sole (TPU) |
| | | |
| | | |
| Hoses (TPU) | Tire chains (TPU) | Caster |
| | | |
| | | |
| Ball (TPU) | Foam (Expanded PU) | Expanding PU foam spray |